ArcheWorld Pre-Package (edited 08.19)Event
2022-08-09 17:00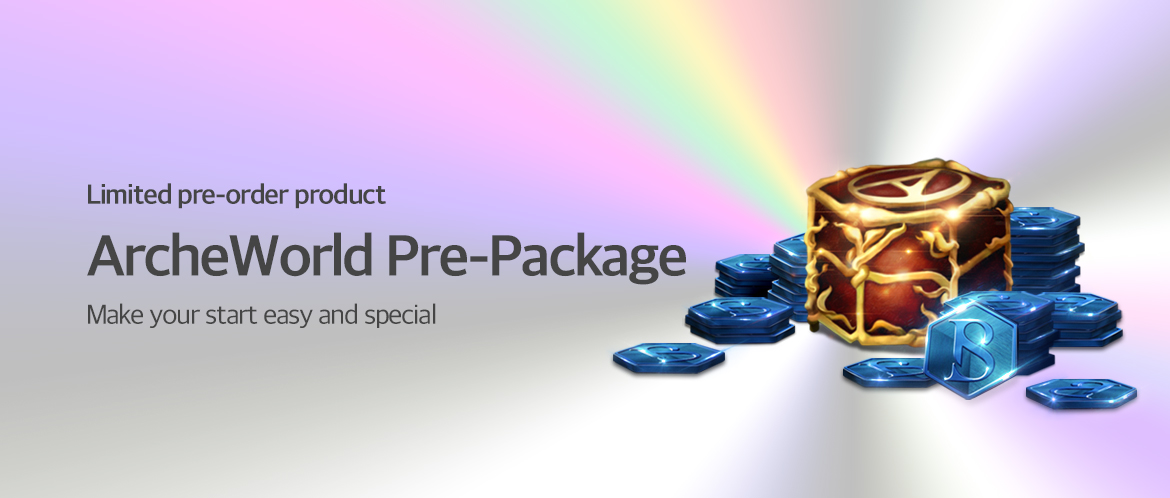 Hello, this is ArcheWorld.
We are offering pre-package that include convenience items and clothes that can be used after ArcheWorld's official launching.
Those who purchase this pre-package will be given BSLT as a bonus, which can be used at the time of the official launching, as much as the quantity purchased.
We appreciate your interest.
[

Go buy pre-package

]

Sales period

---
Period : After August 11, 2022 Maintenance ~ Before August 25, 2022 Maintenance (2 Weeks)
| | |
| --- | --- |
| Category | Detail |
| Name | ArcheWorld Pre-Package |
| Price | $50.00 (Tax excluded) |
| Quantity | Total 5,000 will be sold (Max. 3 per account / Cannot be repurchased if you cancel) |
| Bind Type | Non-tradable |
Components of ArcheWorld Pre-Package
---
Item Name
Quantity
Detail
Special Costume Box
1

Acquire 1 out of a total of 46 Special Costumes.




(Main items: Bleak Burial Shroud / Blooming Spring Cow / Moon bear)

Anywhere Warehouse(90 Days)
1
Use Warehouse summoning Anywhere Warehouse
(Cooldown : 1 min)
Normal Costume Box
2

Acquire 1 out of a total of 98 Costumes or 1 item ouf of a total of 20 Theatrical Techniques.

BSLT
500

Bonus which will be paid directly to verified wallet in ArcheWorld account.

Notes
---
This product is limited to pre-order and will be sent to the xbluesalt website > Coupon Box after the official launching of ArcheWorld.
Bonus of the purchase will be paid directly to your BSLT deposit through a verified wallet in your ArcheWorld account.
You can cencel the purchase before the Maintenance on September 1(Thu), 2022. Please check the notes on payment and cancellation before making a purchase since there may be cancellation and refund fees depending on the payment method.
After payment, time may be required for payment approval according to payment agencies' circumstances. Purchase cancellation is unavailable when you are waiting for payment approval.
The number of available purchases will remain consumed after purchase cancellation, and purchase is limited for consumed number of available purchases.
Refund after purchase cancellation may take 5~10 working days depending on the payment method.
Sales period may end earlier than the schedule if all of prepared quantities are sold out.
Please contact us through Ticket on webpage or contact channels if you have any other inquiries regarding purchasing items.