Lulu's Locked Lucky Box EventEvent
2022-11-10 11:00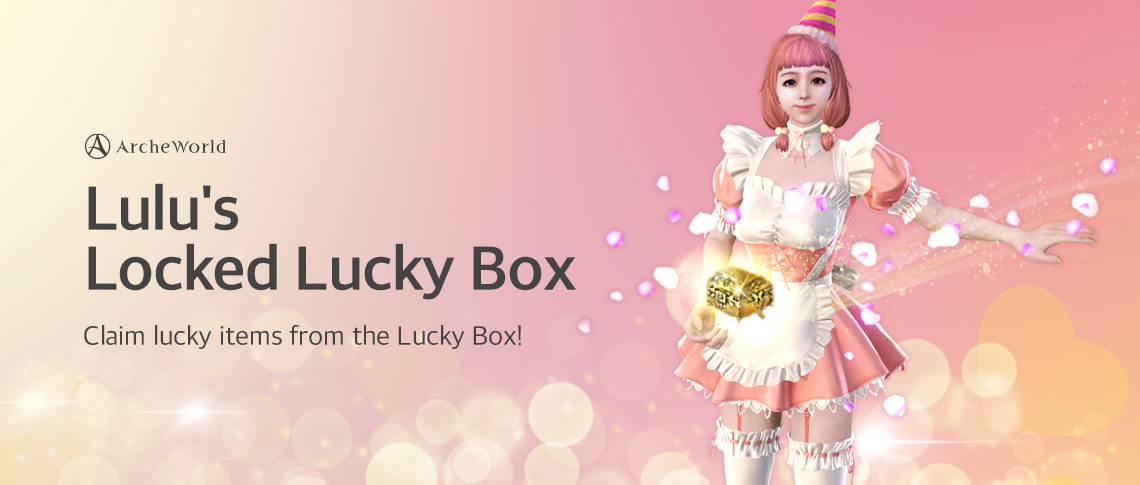 Hello, this is ArcheWorld.
Participate in the event to claim lucky items!
Please refer to the following details for further information.


Event Schedule
---
After maintenance on Nov. 10th ~ Before maintenance on Nov. 17th (1 week)
Event Details
---
'Lulu's Locked Lucky Box' can be obtained every 30 minutes of play time during the event period (up to 10 per day)
Lulu's locked Lucky Box can be opened by consuming 'Lucky Key'.
The lucky key can be crafted by consuming '1,000 Archeum and 100 labor points' through the folio.
After the event ends, the land airdrop winner will be announced and the BSLT will be airdropped. (On Nov.18th, by 18:00 UTC+8)
You can randomly acquire one of the components below.
Category
Item
Components
Land Airdrop Coupon
5 BSLT Airdrop Ticket
10 BSLT Airdrop Ticket
50 BSLT Airdrop Ticket
1,000 BSLT Airdrop Ticket
# Lucky Key is required to open the box.
'Land Airdrop Coupon' Draw Reward
| | |
| --- | --- |
| Place | Reward |
| 1st Place: 1 winner | LARGE Land NFT Airdrop |
| 2nd Place: 3 winners | MEDIUM Land NFT Airdrop |
| 3rd Place: 6 winners | STANDARD Land NFT Airdrop |
Notes
---
When obtaining BSLT Airdrop Tickets and Land Airdrop Coupons, you are automatically participated in the event. For the Land Coupons, the more you have, the higher the chance to win the draw.
Lulu's Locked Lucky Box, Lucky Key, BSLT Airdrop Ticket, and Land Airdrop Coupon will expire when the regular maintenance starts on Nov. 17th (Thu).
In the System Lands which will be airdropped for this event, there may be a tenant who has already made a contract, and for a System Land tenant, a user landowner may occur.